Description
Psychedelic mushroom chocolate bar from Wonder Bars chocolate bar with psilocybin mushrooms These chocolate bars with mushrooms each have twelve pieces, with each piece weighing on average 290 mg (3.5g total bar). You can ingest the exact proper amount of psilocybin in the shape of chocolate without the gritty flavor thanks to the accurate weight measurement. Eat this food on an empty stomach. Beginners can start with 1/2 or 1 square and add more after waiting 30 minutes for the effects.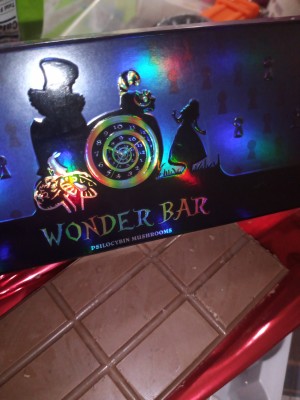 These flavorful psilocybin-infused Chocolate Bars come in a variety of flavors while still providing a potent kick. A great choice for those who are new to Magic Mushrooms or experienced with psychedelics as each bar contains 3000mg of magic mushrooms.
Some of the benefits of consuming Chocolate rather than traditional magic mushrooms:
Much easier to digest, no more 'gut rot'
No more muscle aches and cramps
Tastes much better than eating raw mushrooms
Fast acting – hits you within 30-45 minutes
Much nicer comedown, no sick feeling, no hangover
Only lasts half as long as regular shrooms – making it much easier to control the length of your high
DOSAGE 
1-3 pieces – Microdose
3-7 pieces-Therapeutic Dose
8-12 pieces – Wonderland
Storage Instructions: Store in a cool, dry place.