Description
Packwoods white runtz
This Packwoods White Runtz collaboration contains 2g of Runt premium indoor flower, dusted in 0.25g Runtz Klef and infused with 0.25g of premium Runtz nugrun sauce.
A strain-specific infused blunt by Packwoods White Runtz is an energizing yet mellow, 70/30, Sativa-Dominant hybrid descendant of the legendary AK-47. With THC levels
(16%) lower than its parent strain, this fruity, skunky, daytime hybrid, named for the coloration of the plant and its cherry aroma, offers a pleasing range of head and body
effects from talking and laughing with friends to peacefully watching a sunset.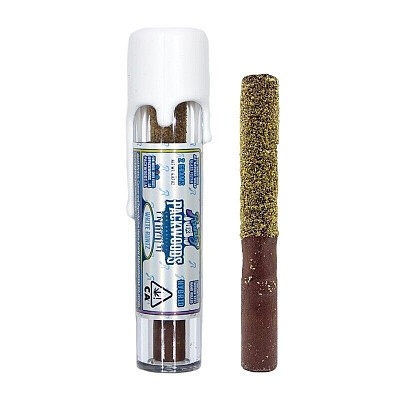 Packwoods white runtz Pre rolls are filled with 2 grams of top shelt, lab tested, hand broken cannabis. The flower is packed into a 100% tobacco free, slow burning natural leaf
wrap, and dusted in kief. An effineered glass filter is used at the tip to ensure a consistent and smooth draw from start to finish. These are the perfect pre rolls to share with a
group of friends, or smoke on all day long. Just one pre roll is filled with 2 grams of flower, so there is enough to keep you company for hours. Packwoods are one of a kind,
delivering hard hitting effects with a surprisingly light taste.
Everything Packwoods does is to elevate the pre-roll smoking experience. That's why they only use premium cannabis to fill their pre rolls.
They always provide their customers premium quality, effects driven, innovative products. Packwoods Pre rolls deliver a smooth, clean hit. Chemdawg is a potent hybrid strain known for its
distinct diesel smell. Expect to feel this hard hitting hybrid all throughout your body as it relaxes each muscle and leaves you in a happy state of euphoria.